Radiant Images Featuring Latest Virtual Reality Solutions – Highlighted by New AXA and Sense 9 Camera Systems – at NAB Show 2017
Inspired VR & 360 innovations from Radiant Images available in Sony, Canon, Blackmagic, Timecode Buddy, Voysys and Z CAM booths
LAS VEGAS (April 24, 2017) – The latest VR and 360 video solutions from Radiant Images – led by the breakthrough AXA 360 and Sense 9 modular camera systems – are being showcased in a variety of booths across NAB Show 2017.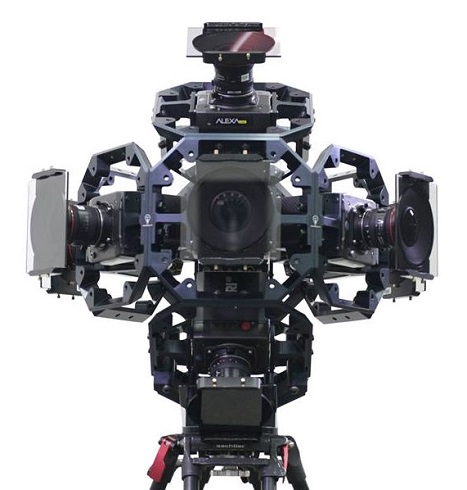 The Sense 9 was built for cinematic cameras and the AXA can easily accommodate them as well, which means professional camera crews will for the first time be able to create VR/AR/360 content using the motion picture cameras they are most familiar with and comfortable using.
In addition, each of the camera systems – inspired by nature and the laws of physics and geometry - attain near-perfect spherical 360 capture, beyond any 360 system presently available. With camera agnostic, modular designs and such high accuracy, they increase flexibility and options on the capture side and decrease time-consuming fixes in post.
"Both the Sense 9 and the AXA were created out of our desire and persistence in finding solutions that remove barriers and limitations for filmmakers," said Radiant Co-founder Michael Mansouri. "Radiant couldn't be more excited about both these new camera systems, which will further stretch the creative possibilities for 360 content creation. We look forward to sharing these new tools at NAB."
Attendees will have the opportunity to get hands-on with Radiant's AXA, Sense 9 and other VR/AR innovations and creations in the Sony, Canon, Blackmagic, Timecode Buddy, Voysys and Z CAM booths at NAB Show, the world's largest annual conference and expo for professionals who create, manage, and distribute entertainment across all platforms. The expo started Monday and runs through Thursday, April 27 in the Las Vegas Convention Center.

Radiant also will have a presence with partners Supersphere, Flightline Films and Subtractive in an Immersive Live truck located in Piero's parking lot, directly across the street from the convention center. Live broadcast in 2D and VR vid
Radiant Images, an LA-based recognized hub of digital cinema and VR innovation, collaborates with creatives in Production & Post, Co-Production and through its rental house. The company utilizes an in-house engineering team and rapid prototype capabilities, specializing in designing and building true end-to-end solutions – including new cameras – and finding solutions that remove technical barriers for creative minds.
Here is a rundown of Radiant's presence at NAB Show:
Sony Booth #C11001 – new AXA 360 Camera System outfitted with the Sony UMC-S3C, a modified version of the Sony A7s MKII featuring a compact design.
Canon Booth #C4325 – new Sense 9 modular 360 camera system outfitted with Canon C300 Mark IIs.
Blackmagic Booth #SL216 – AXA 360 Camera System – Blackmagic Edition, featuring the Blackmagic Micro Studio 4K.
Z CAM Booth #C1052 – AXA POV system with Z CAM C1 plus custom camera array system utilizing 24 Z CAM E1s.
Timecode Buddy Booth #C274 – Mobius 2.0, the updated version of Radiant's Mobius POV virtual reality head-mounted system, now with a refined modular, lightweight design.
Voysys Booth #N1214VR - AXA 360 Camera System with ARRI Alexa Mini, plus the Z CAM S1 Pro and Sony A7S MKII with Etynia 250mm lens.
Haivision – Renaissance Hotel (steps from South Hall) – Utilizing Haivision KB 4K encoder with Nokia OZO Live system on Triad T3 stand
Immersive Live Truck, Piero's parking lot – With partner Supersphere, Radiant will showcase Nokia OZO Live and the Z CAM live system, providing attendees with live 360 content to view in the truck, hosted by Flightline Films, Skyrae, Subtractive and Big Vision.
The AXA 360 Camera System features a hexagon shape, equidistant in all directions, that provides perfect geometry for spherical image capture. The camera agnostic, modular design, which comes in three available sizes, accommodates a variety of camera models, ranging from large cinema cameras such as ARRI Alexa Mini and RED, the compact Sony UMC-S3C and Blackmagic Micro, and all the way down to cameras as small as GoPro.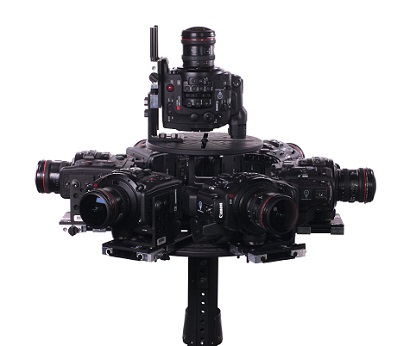 The AXA is extremely adaptive and accurate for 360 capture. It also features real-time live preview stitch, power distribution, timecode synchronization and genlock sync, and comes complete with integrated power solutions, video monitoring and sync capabilities. The camera system, too, is available in three different materials: aluminum, carbon fiber and magnesium.
The AXA POV 360 system, based on the AXA 360 design, uses perfect geometry by utilizing a series of hexagons which create an accurate equidistant 360 POV perspective. The AXA POV features a lightweight and rigid carbon fiber build, integrated heads-up display, shoulder supported with a lightweight carbon fiber neck brace and inertial measurement unit for stabilization.
The AXA systems were designed by Kurt Weijan Lin, a Design Engineer at Radiant Images.
The Sense 9 is a modular 360 camera system built with the First AC and camera operator in mind, offering the ultimate in both adaptability and precision for truly cinematic 360 image capture. The hemispheric design will accommodate larger cameras, such as the Canon C300 Mark II (ideal for low-light/high-resolution capture), Alexa Mini, Phantom Flex, RED WEAPON and others.
The Sense 9 features all the tools that a traditional cinematographer would use, including timecode, live stitch, system integrated power, video monitoring and sync.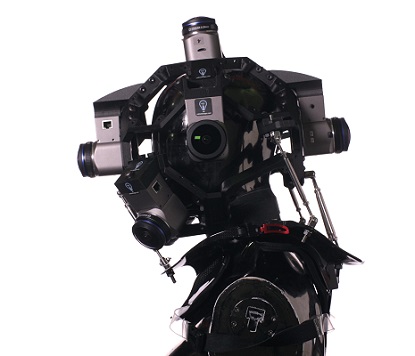 Mobius 2.0 updates Radiant's groundbreaking Mobius POV virtual reality head-mounted system, which was the first to place the viewer into the body of a character for a stunning new perspective. This slimmer design features a new carbon fiber, lightweight design, integrated power system, heads-up display and modular system that allows the use of a variety of cameras.
OZO Live is a real-time broadcast solution that delivers live 360-degree experiences utilizing the powerful Nokia OZO, enabling content creators to easily record and broadcast VR footage on the spot,
In each of the booths, technicians will be on hand to answer questions and provide demonstrations of the capture devices.
Radiant also has a wide range of VR 360 cameras, systems and support equipment available for sale at http://www.360radiant.com/.
About Radiant Images
Radiant Images is an award-winning digital cinema innovator and rental house providing creative solutions in 2D, 3D, VR and augmented reality, leading-edge cameras and equipment, and unrivaled client support, to the motion picture industry worldwide. Radiant has a dedicated VR wing inside its facility at 2702 Media Center Drive in northeast Los Angeles. For more information about Radiant Images, visit online at www.radiantimages.com. Find Radiant Images on Facebook, Instagram and Twitter.
About NAB Show
NAB Show, held April 22 - 27, 2017 in Las Vegas, is the world's largest convention encompassing The M.E.T. Effect, the convergence of media, entertainment and technology. With 103,000 attendees from 166 countries and 1,700+ exhibitors, NAB Show is the ultimate marketplace for solutions that transcend traditional broadcasting and embrace content delivery to new screens in new ways. From creation to consumption, across multiple platforms and countless nationalities, NAB Show is where global visionaries convene to bring content to life in new and exciting ways.
# # #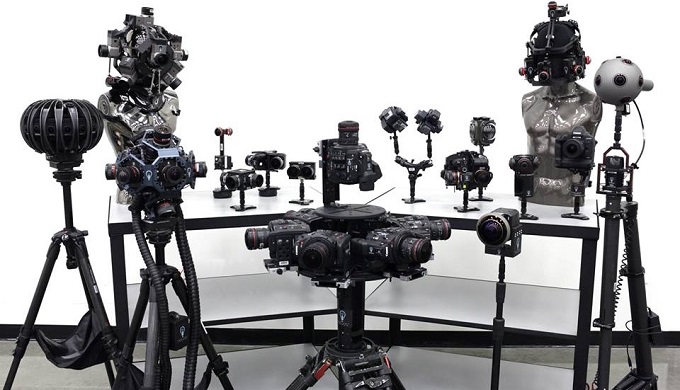 Images
Top: AXA 360 Camera System outfitted with ARRI Alexa Mini
2nd: Sense 9 w/ Canon
3rd: AXA POV 360
Bottom: Collection of VR AR 360-degree cameras, systems and rigs available at Radiant Images