Radiant Images to Feature Latest Innovations in VR Technology and Digital Cinematography at J.L. Fisher Open House & BBQ
Award-winning rental house will showcase variety of 360-degree solutions and custom rigs at May 14 Burbank event
Radiant Images, an award-winning rental house and recognized hub of digital cinema innovation, will showcase a wide variety of its virtual reality technology, customized rigs and other filmmaking tools at the annual J.L. Fisher event on Saturday, May 14 in Burbank.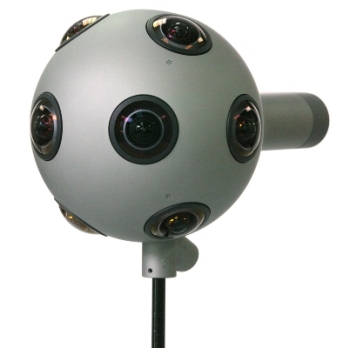 Visitors to the Radiant Images (www.radiantimages.com) tent will get a close-up look at the new, groundbreaking handheld support device for gimbals from Ready Rig with CineMilled accessories, plus the Nokia OZO on a Technocrane, the Dark Corner 360 rig and the Headcase Codex 360 rig, which features 17 Codex action cams.
A wide selection of cinema cameras, POV cameras and lenses – including the Alexa XT, Alexa Mini, Sony F65, Fujinon 75-400mm, Leica Summilux, Codex Action Cam and Indiecam – will all be on display, many with Radiant customizations.
Lauded for its award-winning R&D efforts in digital cinema camera technology, Radiant Images is now focused on VR development and testing to help filmmakers and camera operators capture 360-degree content in a compelling way.
The company utilizes an in-house engineering team and rapid prototype capabilities to provide filmmakers with the latest virtual reality tools and creative solutions.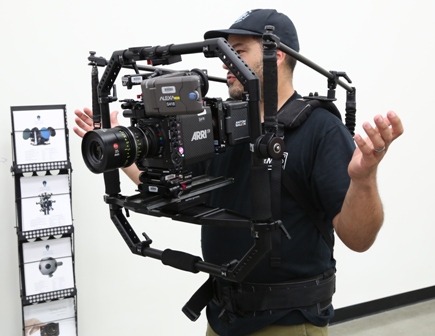 Director of Engineering Sinclair Fleming, Post Supervisor Shyam Kannapurakkaran and VP Michael Mansouri, who was recently named to the StudioDaily 50: The Top Creatives & Technologists, with be joined by other Radiant technicians.
"We are looking forward to J.L. Fisher this year as it builds on our momentum from NAB and the sold-out post-NAB Hands-on VR Demo & Training at our facility last week," Mansouri said. "J.L. Fisher provides us with another good opportunity to meet with filmmakers and camera operators in a relaxed setting to share our knowledge and our passion for finding creative solutions for filmmakers."
The 10th J.L. Fisher, SOC, ICB & ASC Annual Mixer is set for 9 a.m. to 4 p.m. on Saturday, May 14, at J.L. Fisher, 1000 Isabel St. in Burbank. The free event brings together film industry professionals to learn about new products and techniques from top suppliers throughout the region. The event also includes the SOC Moving Camera Seminar from 10:45 a.m.- noon and Dialogue with ASC Cinematographers from 2:30 - 4 p.m.
Radiant camera systems at J.L. Fisher will include:
Ready Rig support system for gimbals, equipped with CineMilled accessories, that gives operators maximum freedom of movement, flexibility and range of motion. With virtually all weight on the hips, operators can shoot longer with greater comfort.
Dark Corner 360 Rig. Featuring four Sony A7S MKII full frame sensor cameras, the Dark Corner rig is the perfect virtual reality capture device for low light environments.
Nokia OZO, the world's first professional virtual reality camera, mounted on a Technocrane. OZO is taking VR capture and end-to-end workflow solutions to the next level. Radiant is one of the first authorized resellers of the OZO in the world.
Headcase Codex 360 Rig, which uses a combined 36 megapixel array of 17 Codex Action Cams to capture in all directions simultaneously. Matching timecode and metadata between all the cameras greatly simplify the post process. This rig has been used on high-profile VR projects such as The Strain's Comic-Con VR Experience and WWE's Summerslam® Virtual Reality Experience plus several car commercials and music videos.
Mobius POV helmet rig, the 17-camera system is the first to place the viewer into the body of a character, providing a stunning perspective as they're able to see the hands, arms and body of the performer wearing it.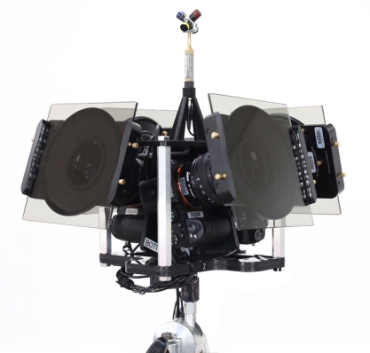 Radiant technicians will provide demonstrations of the capture devices and as well as other custom VR power and mobility solutions that are part of the company's deep inventory of rental cameras, lenses, gear and accessories.
Radiant recently tripled in size with a move to a new facility at 2702 Media Center Drive in northeast Los Angeles. For more information about the company, visit online at www.radiantimages.com. Find Radiant Images on Facebook, Instagram and Twitter.
# # #
TOP: Nokia OZO
2nd: Ready Rig handheld support with Cinemilled accessories
LEFT: Dark Corner 360 Rig
BELOW: Mobius POV helmet rig