Radiant Images and VRLIVE Featuring Its Latest Virtual Reality Tech in Band Pro and Codex Booths at NAB Show 2016
VR innovations available for hands-on testing include the new Nokia OZO, Headcase Codex 360, Dark Corner and VRLIVE's 360-degree live-stream of NAB event
LOS ANGELES (April 12, 2016) – Radiant Images will be showcasing its latest virtual reality tools and technology at NAB Show 2016 in both the Band Pro and Codex booths.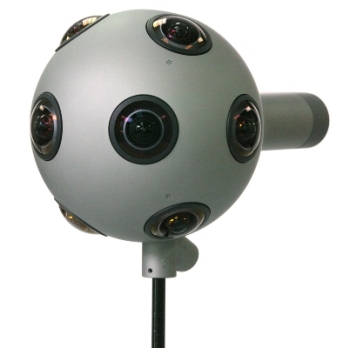 Radiant will offer NAB attendees a hands-on experience with a range of its custom VR gear and solutions, including the new Nokia OZO, Dark Corner Sony A7s rig, Mobius POV, Headcase Codex 360 rig and VRLIVE live 360 stream of the event.
An award-winning LA-based rental house and hub of digital cinema innovation, Radiant Images is recognized as an industry leader in testing and developing virtual reality and augmented reality technology.
VRLIVE, the first 360-degree network for virtual reality and 360-degree live-action content, is the leading platform for music, sports and entertainment events. By filming or recording major music events and major recording artists like U2 and Coldplay, to name a few, VRLIVE has established itself as the go-to destination for the growing global VR audience.
At NAB Show, Radiant will be showing off VR equipment in the Band Pro Film & Digital Booth #C10408, directly adjacent to the Sony booth in the Central Hall, and the Codex Booth #SL6828, located in the South Hall.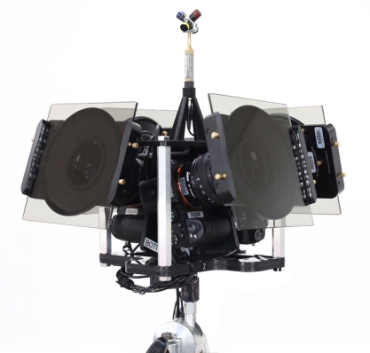 Band Pro Film & Digital, Inc. specializes in products and solutions for professional filmmakers and videographers. With offices in Burbank, New York City, Munich and Tel Aviv, Band Pro offers the highest level of knowledge and expertise along with the finest equipment and accessories available.
Codex Digital, which has offices in Los Angeles and in London, England, design and manufacture high-end digital equipment for motion picture and television production. Products include award-winning high-resolution media recorders and a range of media management stations to manage the entire workflow of a digital production from set to post production.
NAB Show, the world's largest annual conference and expo for professionals who create, manage, and distribute entertainment across all platforms, takes place April 16-21 in the Las Vegas Convention Center.
"We always look forward to NAB and this year especially we're excited to show off our most recent VR creations and solutions that are enabling filmmakers to capture 360-degree content in a more compelling way," said Michael Mansouri, VP at Radiant.
Radiant camera systems and gear in the Band Pro booth will include:
Dark Corner 360 Rig, featuring four Sony A7S MKII full frame sensor cameras, the Dark Corner rig is the perfect virtual reality capture device for low light environments. This rig will be broadcasting the event live across the web.
Nokia OZO, the world's first professional virtual reality camera, taking VR capture and end-to-end workflow solutions to the next level. Radiant is one of the first authorized resellers of the OZO in the world.
VRLIVE, VRLIVE's unique live-streaming technology, showcased in the Band Pro booth offers 360-degree live-stream, distributed via its network to desktop or any smart phone, anywhere in the world, viewable as a 360-degree scrollable live-video or experienced within a virtual reality head-mounted display. VRLIVE's mobile app is available for download in iTunes and Google Play.
Radiant camera systems and gear in the Codex booth will include:
Headcase Codex 360 Rig, which uses a combined 36 megapixel array of 17 Codex Action Cams to capture in all directions simultaneously. Matching timecode and metadata between all the cameras greatly simplify the post process. This rig has been used on high-profile VR projects such as The Strain's Comic-Con VR Experience and WWE's Summerslam Virtual Reality Experience plus several car commercials and music videos.
Mobius POV helmet rig, the 17-camera system is the first to place the viewer into the body of a character,providing a stunning perspective as they're able to see the hands, arms and body of the performer wearing it.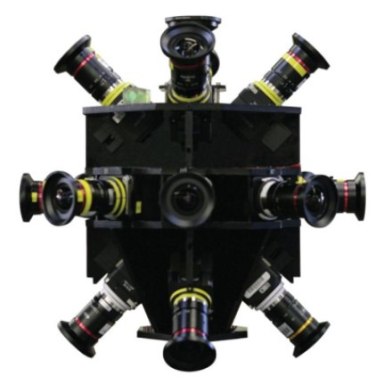 In both of the booths, Radiant & VRLIVE technicians will provide demonstrations of the capture devices and as well as other custom VR power and mobility solutions.
Already known for its award-winning R&D efforts in digital cinema camera technology, Radiant Images is now focused on VR development and testing to help filmmakers and camera operators capture 360-degree content in a compelling way. The company utilizes an in-house engineering team and rapid prototype capabilities to provide filmmakers with the latest virtual reality tools and creative solutions.
Radiant recently tripled in size with a move to a new facility at 2702 Media Center Drive in northeast Los Angeles. For more information about the company, visit online at www.radiantimages.com. Find Radiant Images on Facebook, Instagram andTwitter.
# # #
TOP: Nokia OZO
2nd: Dark Corner 360 Rig
ABOVE: Headcase Codex 360 rig
BELOW: Mobius POV helmet rig