Radiant Images Demos Latest Custom Virtual Reality Gear and Solutions at DGA's Digital Day 2015 Event
Attendees got hands on with the digital cinema innovator's Headcase Codex 360 Rig, spherical VR rigs and VR mobility options
LOS ANGELES (August 6, 2015) – Radiant Images, a full-service rental house and digital cinema innovator, demonstrated its growing inventory of virtual reality gear and solutions – including the Headcase Codex 360 rig and spherical VR rigs – at the Directors Guild of America's (DGA) Digital Day 2015.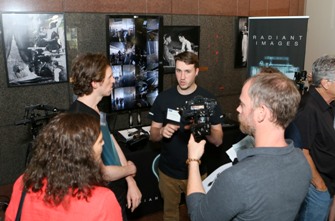 In addition to Radiant's wide range of VR rigs and gimbal POV rigs, attendees were able to get hands on with its other one-of-a-kind VR filmmaking tools, including a spherical underwater housing, custom power solutions and VR mobility options.
Radiant Images was an exhibitor at Digital Day 2015 – The New Reality…Drones, Clones and VR. The July 25 event provided DGA members and guests with an opportunity to learn more about the creative and technical side of these emerging new technologies.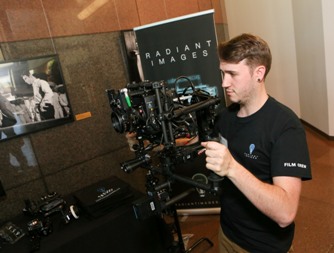 Already lauded for its expertise in working with mini action cameras and customizing rigs, Radiant Images is now ahead of the curve in developing VR technology that is enabling filmmakers and camera operators to capture 360-degree content in a compelling way.
Radiant technicians gave demonstrations at the DGA event and discussed how they are helping filmmakers overcome technical challenges faced with a technology that is quickly evolving.
Gear on display included:
Headcase Codex 360 Rig, which uses a combined 36 megapixel array of 17 Codex Action Cams to capture in all directions simultaneously.
Spherical 360 VR, a super lightweight VR option that uses six GoPro Hero 4 Black cameras.
Spherical GoPro Underwater Housing, which can shoot fully spherical video and photo content at depths as low as 1,000 meters.
VR mobility options
Custom power solutions for VR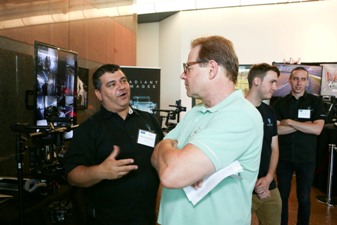 "Our specialty is overcoming roadblocks and challenges and helping filmmakers achieve their vision," said Michael Mansouri, VP at Radiant Images.
"Virtual reality presents a whole new set of challenges and we've been fully immersed in this new technology for some time now. We're anxious to show people the creative solutions that we've found and how we've been able to move VR forward. It should be a fun day."
With much of VR filmmaking still very much in an experimental stage, Radiant Images has become a test lab of sorts for curious filmmakers.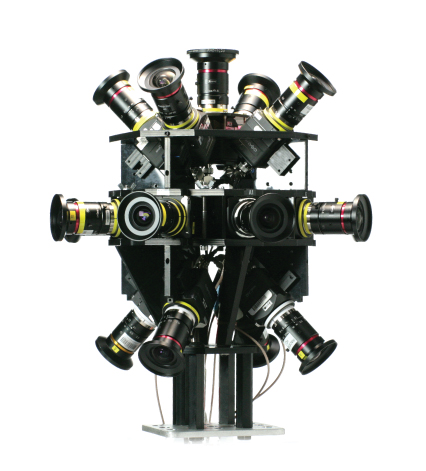 Radiant has an in-house engineering team as well, which enables the company to prototype new gear as well as customize and modify existing 360 rigs to push VR technology forward.
Radiant Images also has been in the field working on a range of VR projects, including commercials shot with its Headcase 360 rig and other spherical rigs.
Most recently, the company worked with the innovative production company Brain Farm to outfit a VR shoot for Samsung at St. Anthony Dunes in Idaho.
"Radiant Images is known for our forward thinking mentality, focused on removing technical barriers for creative minds," Mansouri added.
"With VR, we understand the new tools like no other rental house and have been able to find creative solutions that are simple and cost effective."
For more information about Radiant Images, visit online at www.radiantimages.com. Find Radiant Images on Facebook, Instagram and Twitter.
# # #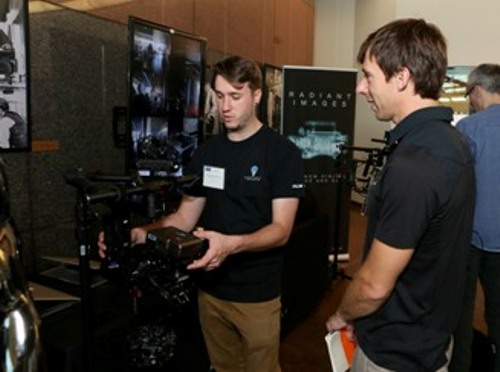 Top Image: Ed Bellamy showing the Nebula 4000 with the Sony A7S
Next Image: Ed with the new Arri Alexa Mini on a Movi M15 equipped with an auto-focus system
Bottom Image: VR 360 GoPro Hero 4 ten mounted on a DJI Ronin
Event photos by Howard Wise/DGA.